AJ01 Aircraft Assembly Jig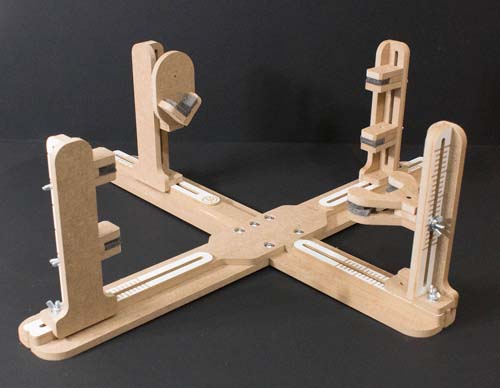 The AJ01 Aircraft Assembly Jig (formerly aj01) is fully adjustable to hold the fuselage and provide a precision holder for setting the dihedral of the wing to fuselage as well as holding biplane wings while assembling and setting the cabane and interplane struts. The secure hold of the jig will also make rigging of your biplane much easier. The nose sits in an adjustable cradle while the wings and tail are 'clamped' using magnets to hold the clamp halves together. The tail clamp can be turned 90 degrees to hold the vertical stabilizer or horizontal stabilizers as needed. This jig is designed to work with a wide range of 1/72 - 1/24 scale subjects and optimized for 1/32 biplane projects.
Main features:
Assembled dimensions: 21.5" x 24.5" x 7.75" (54.6cm x 62.2cm x 19.7cm)
Shipping weight: 3.6 lbs
Fuselage length range: 4.25 - 15" (10.8 - 38.1cm)
Wingspan range: 6.25 - 19" (15.9 - 48.3cm)
All of the HobbyZone products are made from sheets of plywood or MDF (dense particle board) wood which are machine cut (not laser cut) for a precision fit. Wood glue is required for assembly (not included). Note: The instructions have an illustration that shows two bolts/washers/wingnuts per riser. This is an error - while the prototype had two bolts on the base of each riser, the production units only have one and there are only 10 bolts/washers/wingnuts provided/needed. The parts list is correct with 10 of each in the kit.
If you wish to replace the kit's wing nuts with more comfortable thumb nuts, look here.
For tips on building the AJ01, look here.
The AJ01 Module does not include models/kits, pictures just show examples of use.
Pricing and specifications may change without notice.