PN01 Brush and Tool Holder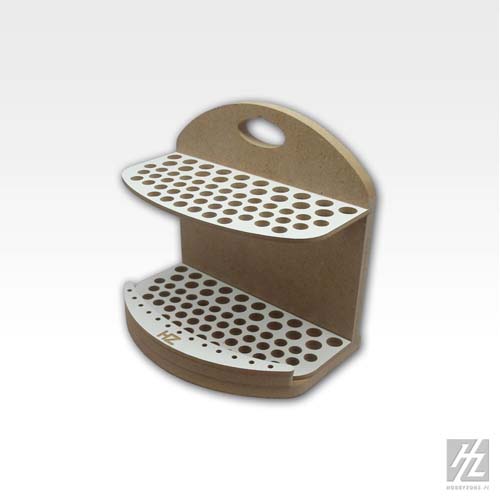 With the PN01 Brushes and Tools Holder, you can safely store all kinds of modeling tools like brushes, drill bits, files, pincers, pipettes, etc. Perfect to maintain order in the workplace. Has 74 holes of different diameters which allow for storing tools of different sizes, convenient carrying handle and there is also the possibility of hanging the Brushes and Tools Holder. With this Brushes and Tools Holder, tools are always at your fingertips.
Main features:
Assembled dimensions: 5.9" x 5.5" x 3.9" (15cm x 14cm x 10cm)
Shipping weight: .6 pounds (.25kg)
Hole diameters: 19 x 10mm, 42 x 8mm, 13 x 3mm
All of the HobbyZone products are made from sheets of plywood or MDF (dense particle board) wood which are machine cut (not laser cut) for a precision fit. Wood glue and a cutting tool are required for assembly (not included). Smaller parts may be machined with interconnecting stubs which must be removed before assembly, just like plastic model parts from a sprue tree.
The PN01 Module does not include paints, tools or accessories, pictures just show examples of use.
Pricing and specifications may change without notice.