S03b (36mm diameter bottles) Paint Hanger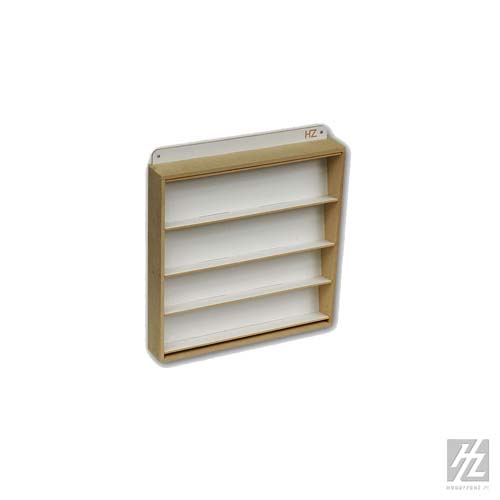 If you do not have enough space at your workplace or you want to keep perfect order with your paints, use the paint hanger that you can install on the wall. Paint hanger is designed so that you can combine several hangers together vertically and horizontally - the combinations are practically unlimited.
Main Features:
Assembled dimensions: 11.8" x 11.8" x 2" (30cm x 30cm x 5cm)
Shipping weight: 2 pounds (0.9kg)
Capacity: Up to 32 35ml bottles
Some of the paints that will fit in the S03b include:
Akan 15ml bottles
Citadel 0.8oz/24ml pots
Creamcoat 2oz bottles
Formula P3 18ml bottles
Games Workshop 12ml bottles
Gunze Mr Color/Mr Hobby 10ml bottles
Iwata Com-Art 1oz/30ml bottles
Life Colour 22ml bottles
Model Car World 1oz bottles
Revell 14ml bottles
Tamiya 10ml bottles
Testor ModelMaster .5oz bottles
Vallejo Primer 60ml bottles
All of the HobbyZone products are made from sheets of plywood or MDF (dense particle board) wood which are machine cut (not laser cut) for a precision fit. Wood glue will be needed for assembly.
The S03b 36mm Paint Hanger does not include paints, tools or accessories, pictures just show examples of use.
Pricing and specifications may change without notice.